← Jessie K.
Anna R. →
Michele M.
June 16, 2013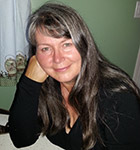 I was nervous about electrolysis as I didn't know what was involved and how effective it would be. Angelina so thoroughly explained the procedure to me in simple terms that were easy to understand that my fears melted away and I was eager to start.  She explained the hair-growth pattern and why it was important to have regular appointments.
Angelina was at all times professional, discreet, kind, understanding and dare I say, delightful.  In short, just the person you want to help you in your transformation to beauty.  She worked on different parts of my body, and I am constantly getting compliments about my eyebrows!
I highly recommend Angelina's services, and I wish her many more years of continued success.
Thank you so much, Angelina!
Bookmark the
permalink
.
← Jessie K.
Anna R. →
Comments are closed.
Homepage Sidebar

Dedicated to helping you achieve the smooth skin you've always dreamed of