← Faye Nowak
Jennifer F. →
Tish
June 11, 2013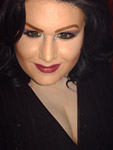 My first visit with Angelina was very comfortable. She made me feel very at ease. She assessed my hair type and we discussed the options. She very thoroughly described the process and then we decided on a plan. Angelina is a very friendly, bubbly, and genuine person yet she still maintains her professionalism.
She keeps her clients educated by letting them know step-by-step what she is doing. I have been undergoing Laser and Electrolysis treatment to eliminate my facial hair and within the past 5 months I have noticed a significant reduction in my hair growth. The hair that is coming in is lighter and hardly noticeable. With ongoing electrolysis that hair will be gone soon too.
Angelina worked within my budget to help make my dreams a reality. I am truly thankful to have met her.
Bookmark the
permalink
.
← Faye Nowak
Jennifer F. →
Comments are closed.
Homepage Sidebar

Dedicated to helping you achieve the smooth skin you've always dreamed of